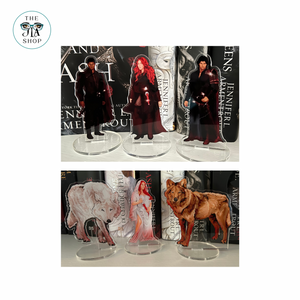 4" tall, double-sided acrylic shelfies featuring the character from the Blood Forest Event at ApollyCon 2023. Maiden Poppy, Casteel, Poppy, Kieran, Delano, and Vonetta. make the perfect addition to any bookshelf.
Shelfies sold in sets of 6, books sold separately.
Exclusively commissioned artwork by @jemlin_c.
*Shelfies require a gentle hand when inserting standees into bases to reduce the risk of breakage.
**Shelfies have a thin protective film that needs to be removed.**